・・・50才前から、まだ遅く無いと、無謀にも英語への挑戦!!
           写真と簡単英語(日本語)で日々の出来事などを書いて勉強中・・・
-- --
上記の広告は1ヶ月以上更新のないブログに表示されています。
新しい記事を書く事で広告が消せます。
Posted by Taka from Kyoto | --:-- | Comment [0] | TrackBack [0] | スポンサー広告
20 2011
The full-blown cherry flower began to fall already from week end at near my house.
On Sunday morning, I went to Uji-river Park to see the flower in haste though it was not fine. The tree had begun to change color to the light green of the young leaf.
As the wind blew, the many petals had fluttered every time in the wind, like a snow.
And many petals colored the ground to the pink. It was very beautiful scene as Japanese art, wasn't it? It is herd rain today; it is the sign of the cherry flower viewing end.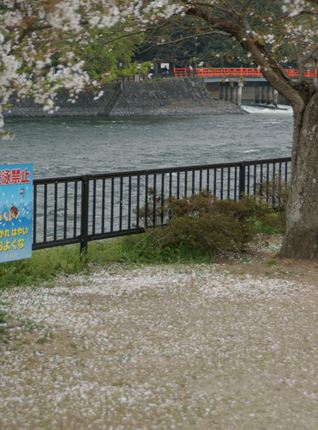 (週末には近所の桜の花はすでに散り始めていた、日曜日の朝、少し曇っていたけれど宇治川の公園へ桜を見に出かけた。桜の木は若葉で緑色に変わり始めていた。風が吹くたびに花びらが風に舞う、雪のように、そして、足元をピンク色に染めていた。まるで日本画のようだ。 今日は激しい雨、雨は桜の終わりを告げる。)



・・・・・・・・・・・・・・・・・・・・・・・・・・

ご訪問いただき有難うございます、勉強中ですので何か気づかれたらアドバイスください。 



↑  ↑  ↑  ↑  ↑  ↑
ランキングに参加しています、クリック宜しく御願いします。励みになります。

Posted by Taka from Kyoto | 20:22 | Comment [2] | TrackBack [4] | 京都